Rauhalahti Kuopio Maraton 4.9.2021
YouTube-videon näyttäminen ei onnistunut. Tarkista markkinointievästeiden hyväksyminen ja selaimen yksityisyysasetukset.
The Rauhalahti Kuopio Marathon is the largest sporting event in Eastern Finland. There are several distances and series to choose from, so whether you are an athlete or an amateur, you can find a distance and a series that suits you the best.
Participation includes
More info:
Esa Pietikäinen, event manager
esa.pietikainen(a)pohjois-savonliikunta.fi
Scroll down for more info! 
Prices 2021
Distance and categories
How to get to Kuopio?
FAQ
Accomondation
Prices 2021
| | | | | |
| --- | --- | --- | --- | --- |
| | Before 11.4. | 12.4.-1.8. | 2.8.-3.9. | 4.9.21 |
| Marathon | 40€ | 50€ | 60€ | 65€ |
| Half marathon | 35€ | 45€ | 55€ | 60€ |
| 10km run | 30€ | 35€ | 40€ | 45€ |
| 10km walk | 20€ | 25€ | 30€ | 35€ |
Distances and categories:
Marathon (42,195 km)
M, M40, M45, M50, M55, M60, M65, M 70, W, W40, W45, W50, W55, W60
Halfmarathon (21,0975 km)
M, M40, M45, M50, M55, M60, M65, M 70, W, W40, W45, W50, W55, W60
10 km running
M, B17, B15, W, G17, G15
10 km walking
Route descriptions:
The marathon course is relatively flat and fast with some gentle slopes, and is crowned by a beautiful view of the lake Kallavesi. The course will be both runner and viewer-friendly, with plenty of spots to cheer the runners on from.
Here is route from 2019 event.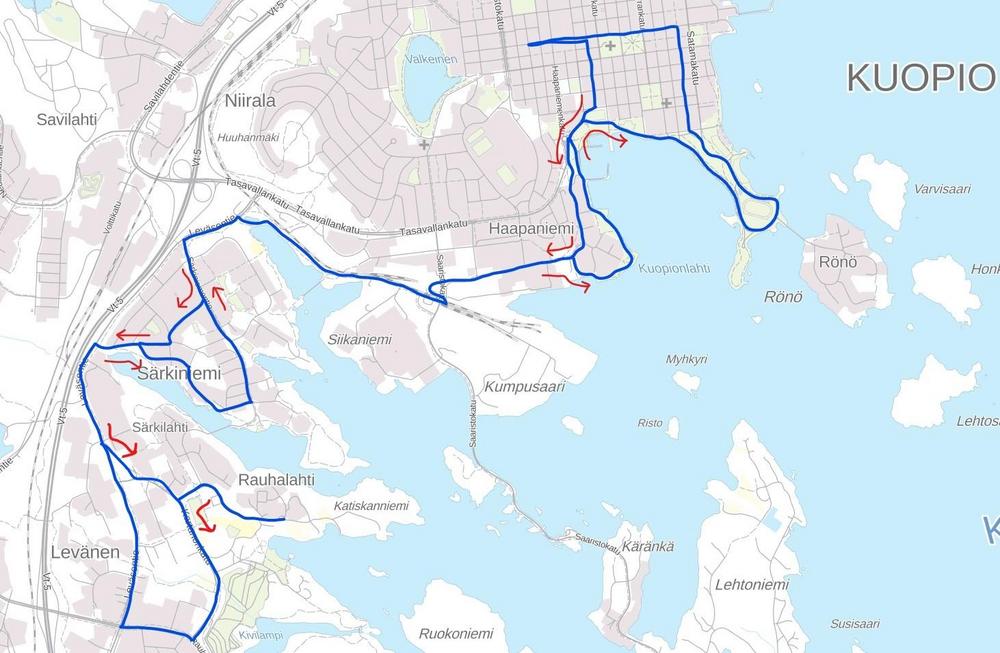 How to get to Kuopio?
City of Kuopio is located in Eastern Finland. Rauhalahti is 9 kilometres from Kuopio. You can reach Kuopio easy by plane, by train or by car. 
By train
Kuopio railway station is located right in the city center. From Helsinki to Kuopio, the jorney takes 4 hours and runs daily. You can also take train from Turku, Tampere, Jyväskylä, Oulu, Rovanniemi and many other cities. Rauhalahti is 9 kilometres from the station.
Train tickets and timetables to Kuopio
By bus 
Kuopio bus station is located next to railway station.  Bus connections to Kuopio are both from the souht and from the north.  Rauhalahti is 9 kilometres from the station.
Bus tickets and timetables
Vilkku buses serve all passengers in the Kuopio urban area and areas nearby. 
By plane
Kuopio airport is located 14 kilometers from the Kuopio city. The flight from Helsinki-Vantaa airport is only less than hour, and flights daily to Kuopio. From Kuopio airport, you can take bus or taxi.  There are rental cars availables from the airport. Rauhalahti is 25 kilometres form the airport.
Kuopio airport flight connections
By car
The journey from Helsinki to Kuopio takes about five hours. 
Car rental
FAQ
Q: Am I allowed to run in the walking series?
A: Yes, and you are also allowed to walk in the running series. The only functional difference is that only the running series are timed.
Q: What does team sign-up mean?
A: By signing up as a team you can participate together with your co-workers, friends or your sports organization. By signing up as a team you can choose to pick up your participant numbers and chips in the same bag, but you don't all have to run in the same series or move as a group. Signing up as a team is a great way to boost team spirit, and the size of the teams isn't limited, so you can bring your whole company or sports club with you!
Q: Is the route challenging?
A: Depends on what you are used to. It is mostly flat with great views of the lake and other sights around the Kuopio area.
Q: Is there an age-limit?
A: Not officially. We recommend that younger participants take the 10km route, that have series for 13, 15, and 17 year olds.
Q: How are the distances marked along the route
A: Every kilometer is marked exactly and the signs can be seen along the route.
Q: Can I sign up on the spot?
A: Yes, an hour before the start of the series.
Q: Is there a time limit?
A: 6 hours
Accomondation
Rauhalahti Spa Hotel - all services nearby
The pleasant and comfortable rooms of the Spa Hotel are perfect for those who appreciate a carefree stay. The rooms are on four floors and about half of them have a balcony. All rooms are non-smoking and have parquet flooring. Pets are allowed in certain designated rooms.
Reservations                 
Sales service (weekdays)
tel. +358 30 608 30
General tel. +358 30 608 3100
E-mail: myynti@rauhalahti.fi
MARATON OFFER
You can choose a nice spa hotel room, a more spacious apartment or new studio.
All rates include  one night, breakfast buffet and free use of spa and gym.
Main hotel building with restaurants, spa, gym.  Spa hotel rooms for 1-3 persons and family rooms for families (2 beds, extra bed and sleeping loft)
single room 77 €
twin room 104 €
triple room 141 €
family 115 € (max. 4 persons: 1-2 adults, children under 15 yrs)
Apartment Hotel
100 metres from Spa Hotel.  Apartments 32 m² have small bedroom (bank bed), living room with two beds.
Some apartments have own sauna. Superior apartments 67 m² have upstairs two bedrooms and alcove for one, downstairs kitchen, living room and own sauna. Apartments have their own parking place.

Apartments 32 m²
single use 104 €
apartment for two persons 110 €
apartment for three persons 150 €
apartment for four persons 180 €
apartment for a family 120 € (max. 4 persons: 1-2 adults, children under 15 yrs)
Apartment with sauna: exra cost 3 e / adult.
Superior apartments 67 m²
single use 182 €
superior for two persons 184 €
superior for three persons 234 €
superior for four persons 268 €
superior for a family 260 € (max. 4 persons: 1-2 adults, children under 15 yrs)
Studio Hotel
In February 2020 opened Studio Hotel 100 metres from Spa Hotel.
single use 118 €
studio for two persons 116 €
studio for three persons 159 €
studio for four persons 192 €
studio for a family 126 € (max. 4 persons: 1-2 adults, children under 15 yrs)
Visit Spa Hotel Rauhalahti website here
Scandic Hotel Kuopio
Scandic Kuopio
Satamakatu 1, 70100 Kuopio
kuopio@scandichotels.com
Tel: +358 17 195 111
Price includes wifi, buffet breakfast, sauna, free use of swimming pool and a gym.
Take a look: www.scandichotels.fi